Developed by BioWare after three and half years of struggle, Microsoft Game Studios and Electronic Arts published it in November 2007 for Playstation 3, Xbox 360 and Microsoft Windows. The science fiction action role-playing third-person shooter video game has 2 more sequels to it with the latest one released last year in March. Inside the Mass Effect universe, you play as an Executive Officer of the SSV Normandy (a humungous ship capable of intergalactic travel), who is tasked at creating a team of battle-ready warriors to fight and defeat evil forces. The story spans across 3 games where you and your group of combatants try to save the Milky Way galaxy from an imminent destructive war. After the release of first game in the series, there came many games like Mass Effect. The interactive and riveting story unravels in an incredible universe that will leave you awe-struck every time. Travel to outposts far out in the universe or discover ancient outposts deep in the recesses of the Mass Effect world! Add to that the ability to customize, train or select your characters and enhance their abilities, so you can have the upper hand when battling alien foes.
Mass Effect became so popular that it was not long before space games like Mass Effect started to materialize. Today, I have compiled a list of games that will make you reminisce the exciting game.
Availability: Xbox 360, Windows PC , PS3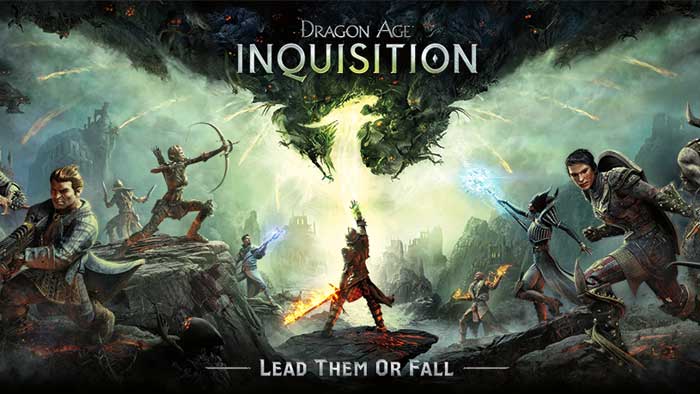 Dragon Age Trilogy
If you are looking for games like Mass Effect you need not go further since BioWare has another game in their arsenal, The Dragon Age series. Dragon Age lets you live the richness of an RPG universe in the trilogy of games available in the franchise. The game allows you to discover different storylines, as it is one of those RPGs where the storyline runs differently depending on the choice of race or class of the character. This means you keep coming back to the game even after finishing it just to explore the storyline of other characters.
Dragon Age becomes a relevant pick because it follows a similar gameplay and storytelling as the Mass Effect series.
Borderlands
Borderlands is also pretty similar to the Dragon Age saga and the Mass Effect trilogy. The awesome RPG comes right on top with games like Mass Effect. Borderlands universe feels like you are in a futuristic western/sci-fi world, where the impressive landscapes are sure to leave you amazed.
The story itself is quite similar to Mass Effect, with the exception of intergalactic warfare. A fluent gameplay in the Borderlands franchise fits perfectly with the riveting storyline. While the gameplay in Borderlands lets players discover a huge universe that is segmented into various zones, it is the interaction between different characters that should really pique your interest for the game.
Hence, if you're searching for a futuristic RPG complete with impressive FPS gameplay and a story that closely resembles Mass Effect, then Borderlands is worth a shot. This one is among the most exciting sci-fi games like Mass Effect.
Availability: PlayStation 3, Xbox 360, Microsoft Windows, Mac OS X, Shield Android TV
Knights of The Old Republic
Knights of The Old Republic is a Star Wars fan's fantasy come true. Albeit, there have been many over the years, this particular game stands out among its siblings. The game is a commendable production of BioWare, and is third in our list of games like Mass Effect. Although the storyline and the universe might be different, the setting and the idea on which the game is set remind us of Mass Effect.
Being a Star Wars game, Knights of the Old Republic has a very rich storyline and gameplay that you won't get tired of. And if Mass Effect is one of your favorites you should absolutely give this a try. Knights of the Old Republic is available on multiple platforms including Xbox 360, Mac OS X, Windows, and iOS. But it is not one of the Android games like Mass Effect.
The Last of Us
One of the best games like Mass Effect, this is set in the apocalyptic era, where the world is being destroyed and a few survivors have grouped together in a quarantine zone to survive the rest of their lives or what is left of it. The Last of Us is developed by NaughtyDog and makes it to our list of games like Mass Effect because it has the RPG third-person shooting element, with an addition of survival and strategy that make the gameplay more interesting.
Alpha Protocol
A production of Obsidian Entertainment, Alpha Protocol is full of action and adventure elements that you explore through the third person perspective. The strategic game is part of Sega's revival in the gaming industry and that is why a lot of work has been put in to make the game absolutely likeable. You play as an agent at an American spy agency which orders you to conduct top secret operations and missions for the government. This is one of the games like Mass Effect, because it has the RPG and stealth elements, which is why without a proper strategy you can't progress further into the game.
Star Wars: Knights of the Old Republic
This game is probably closest to Mass Effect in terms of the setting. The game was developed by Bioware, it takes the user back to 4000 years before the formation of Galactic Empire. The players are meant to choose from an array of character sets, which can define different traits. It has been nominated for several awards and is definitely one of the best games like Mass Effect.
Availability:  Mac OS X, iOS, Android, Xbox 360, Xbox One
Jade Empire
Jade Empire has made it to our list of Best games like mass effect due to a number of reasons. Jade Empire is packed with a number of exciting characters to make your experience worthwhile. The player impersonates a martial arts student in the Jade Empire who has to save the empire from a mysterious force.
Availability:  Xbox, Android, Xbox 360, Microsoft Windows, iOS, Macintosh operating systems