How would you feel if you had a chance of playing your favorite video game on a big screen with awesome graphics?  Are you pining for an immersive and highly engaging game experience? GamesEverytime suggests opting for the best gaming projector instead of a regular TV or game monitor. The great thing about the HD video gaming projector is that you get to enjoy a larger display with top quality graphics. Now isn't it fantastic? Imagine a game setup that is as thrilling and exciting as a wow-worthy cinematic experience. Like you are actually part of a Hollywood blockbuster! Well, the best video projector for gaming available in the markets today happens to mesmerize you with just this kind of an experience.
Why Buy a Gaming Projector?
Gaming is an adventurous, fun-filled past time and you surely want to outdo in your game sessions. I find TV monitors and game screens a bit too compact especially when you are aiming for a larger than life game experience that leaves you almost spellbound. You would essentially find a plethora of different projectors in stores but I am talking about core game projectors that are perfect for playing cool video games and action-packed titles. Gaming projectors such as the Optoma UHD60 4K UHD Projector are specifically crafted to make images on your screen appear vibrant and zippy. These types of projectors offer a more real-life game environment to uplift your playtime.
Buyer's guide you may also like: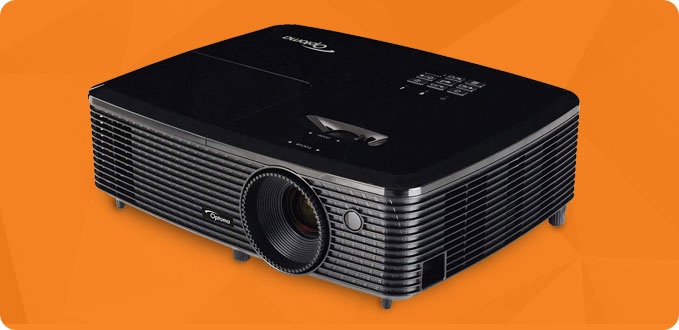 Editor's Overview
Picking out the perfect gaming projector that perfectly matches your specific game requirements is definitely a bit challenging. You might find asking, 'Should I go for the best cheap projector for gaming or I get myself the top pocket gaming projector'? Whatever product you choose will largely depend on your budget and particular game playing needs. There are many cool brands like Epson, Optoma, Sony, BenQ, and LG to name a few that you could pick. They offer a range of impressive gaming projectors built for different game environments. It is important to weigh out the pros & cons of each product carefully before making your decision.
To help you with your pick, we evaluated the most popular projectors in the market. Below are trending gaming projectors convenient for diverse gaming setups with price tags within the $500 and above $1000 range. Check out the reviews below to pick out the best projector for your personalized home entertainment and game playing.
5 Best Projectors For Gaming
Here are GamesEverytime's recommendations for the top gaming projectors:
Buying Guide
Wondering how to choose the projector for your video game indulgence? There is a wide array of products in stores with their own specific set of features and specifications. So, what brand you should pick, whether you should purchase the best pocket projector for gaming or the best portable projector for gaming? Let us find out the answers to these in the section below:
What Factors To Consider?
Let us be clear here. Gaming projectors are not your typical projectors, generally used by educational institutes and business enterprises for presentations and lessons. The best gaming projector is designed with special emphasis on the input lag. This pivotal factor allows you to benefit from a diverse cinematic experience through a game session. You would probably be wondering, the focus on input lag should come with a low emphasis on color performance but I say these projectors render the brightest, most vivid images with an impressive resolution range. Then we have ports, color contrast and brightness settings to consider. I will explain each of them one by one for better understanding.
Input Lag
You will normally find experts saying the best projector for gaming should ideally have an input lag below 45ms. This is one of the most important aspects to consider when buying the gaming projector. GamesEverytime team suggests you opt for a projector with a low input lag because the lowest is your projector's input lag, the faster it will be able to render multimedia content on your screen. You will notice most top projectors for gaming that we have reviewed come with a low input lag, some even below 20ms. Input lag is generally the time difference between transporting the signal from the game console or PC to the game projector and displaying it on the screen.
Most projectors from top brands feature a low input lag, which is the amount of time the gaming projector takes to produce an image. A longer input lag may result in synchronizing issues for your gameplay. Usually, the input lag when playing games online is around 50ms, which is not bad. However, with projectors offering ratings as low as 20ms, you can enjoy a great gameplay session. For example, the Optoma GT1080DARBEE is one of the best projectors for gaming, which includes a low input lag, ideal for playing multiplayer Battle Royale challenges and intense combats requiring fast action.
Ports
If you are thinking of playing Call of Duty or Fortnight with your friends on the gaming projector, then look for a good brand that includes support for an HDMI connection. You usually get this port on most game consoles like Xbox One and PS4. It is also a good idea to go for an authentic brand with multiple ports that would come handy if you plan on using your projector for purposes other than playing games. You can find a range of connection supports and multiple ports on the best projector for movies and gaming.
Brightness Rating
As I indicated earlier, the emphasis on input lag does not really affect the color performance of these projectors. In fact, the images are more crisp and vibrant. The brightness rating is an important consideration when buying a game projector. The best gaming projector will have a strong brightness rating because that allows it to create sharp and zippier graphics. For a brilliant multimedia experience, look for brightness rating above 1800 lumens. Also, look at the recommended brightness ratings for different screen sizes below:
50-60 inches – 1000 lumens or above
60-80 inches – 1500 lumens or above
80-100 inches – 2000 lumens or brighter
100 inches & above – 2500 lumens or brighter
Features
Most companies design their game projectors to include an impressive set of features that add to a dynamic video game session. Apart from bright images and low input lag, the best gaming projector should include multiple picture modes to select from, support for 3D functionality, wireless capabilities, support for software upgrades, and portability amongst other cool features.
Pricing
Like I highlighted earlier, these high tech devices may appear overly expensive but many brands come with an affordable price tag. Please do not get me wrong here! These projectors are not cheap, especially given their size and powerful specifications but you can easily find the gaming projector for 500 dollars. While most top quality brands are priced above $1000, it primarily depends what features you are looking for and how much are you willing to spend for a splendid game experience.
Are They Expensive?
If you are thinking that these mighty display devices may cost a fortune, you are wrong. Most of these come at an affordable price but cost does depend on their specifications. I personally find them as great alternatives to the conventional TV and game monitors. The best gaming projector should come equipped with wireless abilities and high resolution including sharp brightness & advanced color contrast options. The mere idea of playing your favorite game on a mammoth 100-inch display (or bigger) sounds thrilling and rather overwhelming. Well, it surely is with the best HD projectors for gaming out there.
So, how to buy the best budget projector for gaming or the best mini projector for gaming? With a range of projectors in the market, the decision can be rather difficult. However, fret not! GamesEverytime has got you covered with their review of top 5 gaming projectors. Take your pick and decide which one best meets your game playing needs.
Things to Consider
Before you head over to our reviews section, I would recommend you check the comprehensive projector-buying guide we have compiled for you to make the perfect choice. It can be tempting to buy the best HD projector for movies and gaming from a popular brand but there are aspects you need to consider when making a purchase. Game projectors have a blend of specifications designed to meet particular game needs and you must have a fair bit of knowledge about these before you head over to the market.
Our buying guide explains what to look for in the best gaming projector and what standard specifications are found in most products available to gamers looking for the best cheap gaming projector or the best projector for home theatre and gaming. I would recommend you read this before moving on to our gaming projector reviews to gain a lucid understanding of what to expect when purchasing the best video projector for gaming.
What Typical Specifications To Look For?
When looking for projector, there are certain specifications you must consider. These are vital for most types of projectors designed for game playing. These include the resolution, brightness rate, color contrast, and refresh rate etc.
Frame Rate
As a game enthusiast, you would want to look for an optimized frame rate for more immersive gamification. Most high-quality game projectors come equipped with a high frame rate. We consider it best for action-based games like Call of Duty or Players Unknown Battleground, for example. The higher is your projector's frame rate, the more seamless your action sequences are on screen. A high rating contributes to reducing motion blur, especially in action-packed gameplay.
Projector Resolution
Gaming projector has a high resolution compared to standard VGA, SVGA, and XGA projectors, which are apt for displaying powerpoint presentations at school or at the office. If you are looking for top of the line products for home entertainment and addictive gamification, then go for the best projector for home theater and gaming with higher resolution. Go for a 1080P HD display and contrary to 4k that is trending, the conventional 1080p is common amongst most home theater buffs looking for quality entertainment. Buy yourself an affordable HD projector to step up your game setup.
Ambient Light & Brightness
I have already explained about the brightness rating of a good gaming projector earlier in this guide but you also need to consider aspects like lumens count, especially if you want to enjoy playing in ambiance light. There is hardly any fun playing in a dark basement or in a room with pallid lighting. You must factor in the ambient light from your viewing location and the required image size when determining the brightness of your projector. You are sure to have loads of fun playing a popular chartbuster game in a brightly lit room.
A high brightness rate or more lumens will cost you additional bucks, so if you are willing to spend some money to improve your gameplay, then invest in the projector that comes with ambient light support and high lumen rating. You will find some projectors on the market with screens built for bright rooms. They do not offer support for ambient light but are quite useful. You can also choose one of these but do keep in mind that they can be a bit expensive. Check out the recommended lumen ratings in different ambient light conditions.
Specialized home theaters –        1500 lumens or brighter
Rooms with some ambient light – 2000 lumens or above
Areas with high ambient light –     3000 lumens or brighter
Contrast Ratio
If you are looking for an excellent image clarity and vibrant graphics, then pick the gaming projector with feasible contrast ratios. You will need to pay close attention to this factor if you want to make an informed decision. Most of the popular titles today include immersive gameplay with more dynamic hue palettes and a wide array of color ranges. These add to the overall game experience. Look for high contrast ratios in game projectors because this feature displays thrilling sequences and murky images with high clarity and visual perfection. GamesEverytime team recommends you consider color contrast ratios based on the ratings below.
Not bad:     5,000:1 or above
Better:        40,000:1 or above
Ideal:          100,000:1 or above
Refresh Rates
The refresh rate is actually the capability of a projector to process video content. The best gaming projector offers a high refresh rate and provides a seamless game environment with no lags or image blurring. I would suggest you look for projector with a rating around 120hz. A higher refresh rate will also get you a crisp 3D image so you can enjoy a brilliant movie session as well.
I hope this guide will help you learn about the fundamentals of buying the best projector for gaming. To make the task easier, we have compiled detailed reviews of the top five gaming projectors below. You can find the one that best matches your unique gaming requirements.
FAQs
What is the Throw Ratio?
Throw ratio is the ratio of the distance from the lens to the screen (throw) to the screen width.
What is the difference between DLP and LCD?
LCD and DLP are the two latest imaging technologies for projectors. LCD is short for Liquid Crystal Display and DLP is short for Digital Light Processing. Both technologies render precise and sharp images. While LCD projectors render a sharper image and high-class picture, DLP projectors are lighter, portable, and are known to be more dependable.
How Do I Change the Lightbulb in my Projector?
You can do this by following nine easy steps. Here is a short tutorial for you to follow. There is also a video tutorial for people wanting to see it live.
How Do I Clean My Projector?
Again, here we can offer you two tutorials: Tutorial 1 and Tutorial 2.