Gaming is an activity that doesn't necessarily require you to buy cumbersome equipment. It means you don't always need a high-end laptop, PC, or console to satiate your gaming desires. Thankfully, there are gaming tablets that are larger than a phone and smaller than (but sometimes equal to) a small laptop that can satisfy your need for playing games. Tablets are designed to perform everything from surfing the web, sending/receiving emails to playing games. Furthermore, their size is highly appropriate; the screen is bigger and better suited to gaming compared to a phone. Tablet is highly portable contrary to laptops which can be difficult to carry. With the best tablet for gaming, you get the best of both worlds thanks to the smart screen and portability allowing you to enjoy games anywhere.
Since there are so many tablets in the market featuring different specifications, it is important to know about the game tablet, so you can enjoy their diversity, portability, and power at a very marginal cost. Without further ado, GamesEverytime would like to present you a list of the best gaming tablets followed by a detailed buying guide that will make your buying decision easier.
Guide you may also like: Laptop for Gamers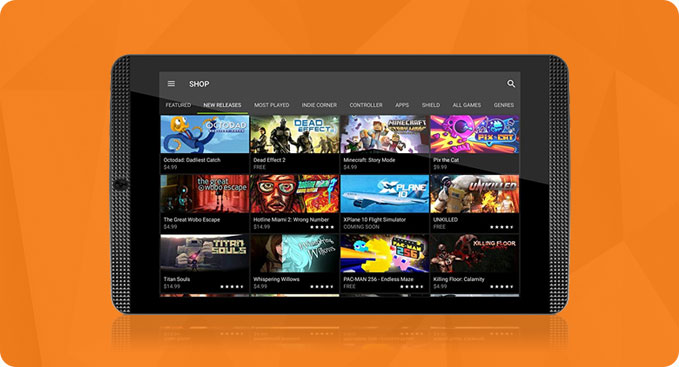 Editor's Choice
After reading all the recommendations above you might have an idea of what is necessary for the best gaming tablet. In our eyes, if you have pure gaming needs, you should go for the Nvidia K1. Nvidia is known around the gaming world as being one of the pioneers in graphics, so there should be no second-guessing their capabilities. However, if you are looking for an all-around tablet with great battery life, we recommend the Lenovo Yoga Tab 3 Pro.
07 Perfect Gaming Tablets
Below, we will talk about seven best gaming tablets available on the market:
Gaming Tab Buying Guide
Size
The first thing to consider is the size of the display screen you are comfortable with. When checking on a brochure or on a website, the tablet would look much smaller than it really is. When you buy it, you get the real feel of the tablet. Furthermore, it is much better if gaming is your only concern with the tablet since game playing feels good even on a slightly smaller screen, say 8-9 inch. On the other hand, to enjoy movies and TV series you need a larger screen. Moreover, a larger screen requires two hands for handling while a small screen tablet can be used with a single hand. This is especially a concern when you use the tablet in busy places like the train or the bus. Consider what size fits you best and then weigh your options.
Resolution/Screen
The resolution of an electronic device is its defining factor. On a low-resolution display, playing games or watching movies will not be a pleasant experience. To enjoy the graphics of a game and view HD photos and HD videos, the device must render excellent image quality. HD movies require 1280 x 720 pixels minimum and nowadays we even have Quad HD or 4K, so look for the one that is latest. A cheap display can easily be recognized through their individual pixels and unevenly lit screen. The image quality is not the best in the world as well.
Furthermore, the screen is the basis for the touch mechanism. You need a highly responsive screen to enjoy games. Go for a smaller screen size to have a better resolution.
Operating System
When it comes to the best gaming tablet, you need to make a decision on its Operating System (OS). There are three major mobile OSs in the world of technology: Android, Windows Phone, and iOS. Starting with Android, it is the most widely used and most popular OS in the world with almost all tablets running on this platform. It is also user-friendly allowing you to download games and movies from third-party websites. Its biggest competitor and the complete opposite is iOS. This mobile operating system can only be found in Apple products. The biggest advantage of iOS is its security and accessibility. As for Windows Phone, it is widely found in gaming PCs and rarely in tablets but the great thing about a Windows-based tablet is that it allows you to play a PC game on your Windows tablet.
Internet Connection and Connectivity
The Internet is the main artery of a gaming tablet. All tabs today have Wi-Fi and Bluetooth, which were rare few years ago. One step forward is 3G, 4G and LTE technologies which you can enjoy only if your tab offers SIM card functionality. The biggest advantage with this is that you can access the internet even if you don't have Wi-Fi or you are on the move. That being said, data plans can be costly, so choose a network service provider wisely. A 3G connection is slower than an LTE connection simply because LTE is the latest technology.
Bluetooth is another integral part of the tab that lets you connect to external devices like gaming microphone, gaming keyboards, and even gaming speakers. Moreover, it allows you to share files wirelessly in an instant. Take a close look at the specs of your tablet to ascertain the right one for you.
Internal Memory and Extension
A high internal memory is compulsory for the smooth function of a tablet. With your tab full of eBooks, games, movies, and videos, you might experience lag in performance. To avoid lags and enhance performance, you should use external memory devices like an SD card. This card allows you to store stuff without putting pressure on the internal memory of the tab, so you get lightning fast performance even with hundreds of games installed. Furthermore, the card enables you to share your data with your PC or with your friend's tabs, which is a faster way of file transfer than Bluetooth. All tablets generally come with an extendable memory capability of 128 GB. Some even offer more. Know your usage and decide if you need more memory or you can manage the internal storage.
Processor
The processor is the heart of any tab. Ascertain the speed and quality of the processor before making your final decision. Look for the latest processor in the market since they get upgraded every few months. The biggest company making processors for tabs is SnapDragon. So, look at their latest models and you won't have to worry about performance in your best gaming tablet.
Battery Time
Tabs are basically bigger phones. They are built to be portable, so you can take them to places where you cannot take your laptop. The portability demands you to have an extended battery life. Usually, a tab lasts for around 10 hours under strict game conditions but some even give you 16 to 18 hours of battery time. If you intend to use your tablet for listening music for hours and hours or intense game playing, look for an Acer tablet. Their tabs offer very good battery time. A useful tip to squeeze maximum battery time out of your device is to close all apps running in the background.
How We Test
Our team of dedicated tech geeks and professional gamers have tested all of the best tablets for gaming to their limits. While testing, the major factors under consideration were the battery time, screen resolution and performance of the tabs. Our tech geeks compiled a list of important specs, found the best gaming tablets and gave them to professional gamers for analysis. While there are literally hundreds of game tabs to choose from, we had to keep the test strict.
FAQ
Why should you buy a gaming tablet?
Ans: Gaming tablet is portable allowing you to do work and entertain yourself on the go.
How much GB storage is needed for streaming and gaming?
Ans: Streaming doesn't use a lot of storage but game playing requires at least 64 GB of space if not more.
How much RAM do I need in my gaming tablet?
Ans: Serious gamers require at least 4 GB or more RAM to keep things smooth and flawless.