Have you ever felt a keyboard is too inconvenient for gaming? Why waste so much space and money on buying a full-fledged keyboard, when all you need for gaming are a few keys? If you agree with us, we recommend you Gaming Keypad. We know you are wondering, how a game key-pad can be helpful? It's simple! This small keypad is a must accessory for an ideal gaming setup. While it may seem a waste of money, it isn't. Gaming keypad is actually a shrunken keyboard having only the buttons necessary for gaming plus additional utility buttons that are designed to enhance your playing experience. The game keypad not only saves space but also looks awesome and makes gaming highly convenient, as you can carry it anywhere in your pocket.
If we have piqued your interest, don't stop! Read on and choose the best gaming keypad from our unique list!
Guide you may also like:
Best White Color Gaming Keyboards
Editor's Choice
Our preferred choice on this best gaming keypad list is Razer Tartarus Chroma V2. We found it is intelligently built to cater to the needs of a hardcore gamer. There is a comfortable cushion for wrist support and a hybrid of mecha-membrane keys to provide you the best experience. Moreover, this gamepad looks attractive thanks to its design and Chroma LED backlights. With all the good features at the price of a Chroma V2, no other game key-pad comes close to this one.
7 Best Keypads for Gaming
We have handpicked 7 top PC gaming keypads and reviewed them individually. We are sure our PC gaming keypad reviews will help you make a wise decision.
Razer has made a big name for itself in the best gaming keypad market. This is the reason we are starting off with the Razer Tartarus gaming key-pad. Razer's products are discernable for their unique RGB lighting. However, they are usually expensive, making it hard for you to afford them. The Tartarus Chroma isn't cheap either but you get what you pay for. The cosmetic appearance and the build quality are exceptional. These are the two basic features that should compel you to buy the Razer Tartarus Chroma expert RGB gaming keypad. This Razer pad is an entry-level offering from Razer and is part of a brand-new series of Chroma game key-pads. The exterior is adorned with a matte black finish, which really brings out the Razer logo on the palm rest. The folks at Razer have provided 15 RGB backlit keys for primary use along with a few more on the right side for secondary use, which take the total number of keys to 25.
GamesEverytime's Review
This Razer key-pad has 25 buttons in total that can be customized to your liking. Using this feature, you can assign hotkeys to a few keys without a hassle. The 8-way thumb pad is also provided to give you a backup movement mechanism. Even the RGB lighting, which is the Chroma's crown jewel, is customizable to your liking. What's there not to like? We would recommend this key-pad because it is highly adjustable, giving you full control.
Specs
Number of keys: 25 and an 8-way thumbpad
Weight: 1 ounces
Lighting: RGB Chroma backlit lighting
Type: Membrane keys
Pros
The keys are programmable to any setting
Adjustable RGB lighting
User-friendly ergonomic design
Cons
No mechanical keys
A bit expensive
The Razer Tartarus V2 Chroma is also a part of Chroma series by Razer. It is an upgraded version of the Tartarus Chroma, therefore, you should expect more advanced features from this best gaming keypad. At first glance, the Tartarus V2 imitates the design of its younger sibling. We are certainly not complaining, as the design is ergonomically sound and pleasing to the eye. The V2 Chroma differs from the basic Chroma in its size and its visually discernable scroll wheel. The scroll wheel replaces the thumbpad, giving you more control over your movements in games. The Tartarus V2 copies the entire design of the Tartarus Chroma but it has a more prominent leather wrist cushion and ergonomic keys.
GamesEverytime's Review
The biggest selling point of the Razer Tartarus Chroma V2 is its mecha-membrane keys. Some users prefer mechanical keys over membrane keys or vice versa but Razer gives you the best of both worlds with Chroma V2. Moreover, the scroll wheel is a nice addition to the design, allowing you to move your character around in all directions, which is particularly useful in FPS games.
There are a few drawbacks as well; you cannot reach all the keys on the keypad without moving your entire hand. The V2 somewhat defeats the purpose of one-handed comfort. However, even after weighing its pros and cons, we think you should decide in favor of the V2 if you have large hands and long fingers.
Specs
Number of keys: 32 keys and a scroll wheel
Weight: 3 ounces
Lighting: RGB Chroma backlit lighting
Type: Mecha-membrane
Pros
Concave shaped mecha-membrane keys improve performance
An extremely useful scroll wheel
32 customizable keys
Cons
Bulkier than the base Tartarus Chroma
Size too big
The boss in Razer's Chroma series is the Orbweaver Chroma. This key-pad holds quality and functionality above everything else, so you get the best performance at a reasonable price. The design is again very similar to other Chroma siblings with the exception of some extra mechanical keys at the bottom. The Orbweaver is available in the cheaper mecha-mechanical keys and the more expensive mechanical keys. A total of 30 keys are provided allowing you to assign hotkeys and special moves to your dedicated buttons. A soft cushion is added to provide comfort to your wrist. The RGB backlight is also standard in this mechanical gaming keypad along with the ability to customize almost everything from color to keys.
GamesEverytime's Review
The Razer Orbweaver Chroma is ergonomically built and has the right number of mechanical keys to take your game experience to the next level. The Orbweaver has customizable RGB lights, customizable keys, and pretty much everything is adjustable to your needs. Since this is true to your needs and is one of the finest to come out of the house of Razer, we highly recommend it.
Specs
Number of keys: 30 keys with an 8-way thumbpad
Weight: 63 lbs.
Lighting: RGB Chroma backlit lighting
Type: Mechanical
Pros
Customizable mechanical keys
Sharp response
Ergonomic design
The Logitech brand is popular for its computer accessories, especially game related. Therefore, you should not be surprised seeing the Logitech G13 on our list. The high-quality pad has an additional LCD screen in its design, which makes the G13 stand apart from its competitors. The LCD screen displays important in-game information. Furthermore, concave shape membrane keys are provided for a soft and quick response along with an easy to use the analog stick for in-game character movement. The black colored keypad has grey highlights for an aesthetically pleasing look as well as multi-colored backlights. Both these accentuate the highly ergonomic design of this Logitech gaming keypad.
GamesEverytime' Review
Let's start off with the negative points, which are not significant but highly noticeable. First off, the LCD display is programmed to work for a few games only like the World of Warcraft, Fallout 3 and Left 4 Dead. Moreover, the screen serves no actual purpose, since it is distracting to look down while playing.
The analog stick is a bit tricky to use but with little use, you will get used to it. The ergonomics, on the other hand, are fantastic and so is the color scheme and design. The Logitech G13 is worth buying, given that you have deep pockets.
Specs
Number of keys: 25 keys and an analog stick
Weight: 1.43 lbs.
Lighting: Multi-color backlighting
Type: Mecha-membrane
Pros
Value for money
Multi-functional small LCD screen
Sharply responsive analog stick
Cons
The LCD screen only supports a few games
Highly expensive
Membrane keys
If you want value for money, look no further than the DEEBOL Deluxe Game Keypad. This is an entry-level cheap keypad for gaming. At first glance, you will find that it is more of a compact keyboard than a keypad. There are so many keys that can be used to enhance your game experience. However, these many keys make it look unbecoming. DEEBOL marks its presence with flashy red highlights mixed with black. There are numerous extra buttons provided on the side that allow you to adjust settings like volume.
GamesEverytime's Review
The large size is a slight disadvantage for those of you with small hands, as reaching all the keys becomes difficult. Neither of the keys is programmable to fit your style of play. The wrist cushion is mighty small and the design is not the most attractive. However, at this low price, you get a basic key-pad.
Specs
Number of keys: 46
Weight: 8 ounces
Lighting: Simple mono-colored lighting
Type: Membrane
Pros
 Affordable for the average person
Durable construction
Looks like a small keyboard
Attractive backlighting
Cons
Many keys are difficult to reach without moving the wrist
Non-programmable keys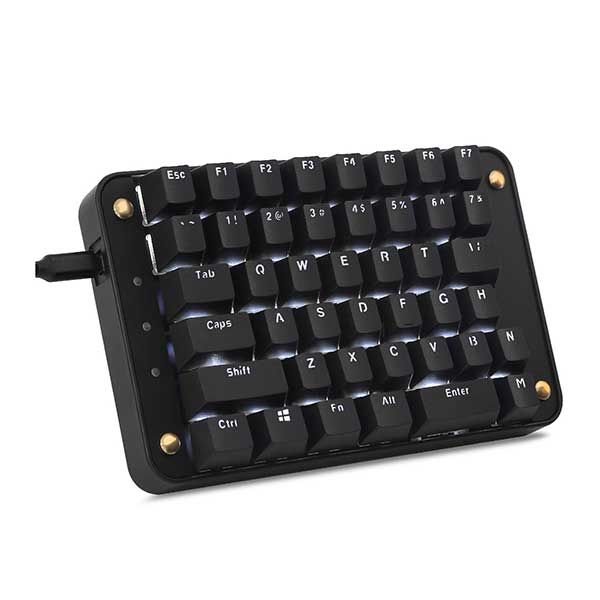 The Koolertron Cherry MX Black Gaming Keypad, may not have the best look, but it's undoubtedly a brilliant keypad. It looks straightforward in comparison to most other keypads. The shape closely resembles that of a regular keyboard.
While the aesthetics may not be particularly impressive, the performance is exceptional. The keypad uses the Cherry MX keys that the larger keyboards use. Cherry MX keys are known for their brilliant feel and tactile response.
Furthermore, keypads typically tend to have 30 keys. The Koolertron offers 43 fully customizable keys that you can program to your liking. Use the Koolertron software to process each key. For certain people, that may seem like an overwhelming task. Worry not, there are several pre-built settings that you can use.
The keypad is also super portable. You can easily take it with you wherever you please. Instead of just being a gaming keypad, the spacing is decent enough to work for typing. However, the size can get a bit annoying, so you'll want to use it for gaming alone primarily.
GamesEverytime's Review
The Koolertron Cherry MX Black may not look the part, but it's easily among the best keypads on the market. In terms of pure feel, very few can compete with the Koolertron. The trigger response of the individual keys is sublime. You won't feel a single instance of delay while gaming.
However, there are certain things to improve. The LED backlighting is most certainly an aspect that needs a lot of improvement. While it won't be an issue when you're familiar with the keys, gaming at night can be troublesome. The lighting isn't adequate.
Aside from the lack of lighting, there are no significant issues with the keyboard.
Overall, the Cherry MX is a brilliant gaming keypad. If you don't mind the minimal aesthetics, then in terms of performance, you're buying the complete package.
Specs
Number of keys: 43 keys
Weight: 1.25lbs
Lighting: LED Backlit
Key-type: Mechanical
Pros
Feels Amazing
Completely programmable
Brilliant keys
Cons
Bland aesthetic
Poor lighting
The Acepha T9 Pro game pad is one of the most versatile pads in the market. The T9 Pro design resembles a calculator – a highly modern and techy calculator – however, it is one of the best-looking keypads on our list. The Acepha T9 has a customizable backlight that can change to 7 different colors. There is a brightness control option that allows you to set the brightness of the keys. Moreover, the keys are programmable to suit your game style and the design is distinctive to make your wrist more comfortable. Therefore, this pad is a brilliant choice for long game sessions.
GamesEverytime's Review
This key-pad by Acepha is an extremely ergonomic game key-pad. There is no question about its comfort capabilities and its striking appearance. It has adjustable LED backlights that allow you to personalize your keypad gaming experience. The price is a bit of a letdown since you can get multiple key-pads with better features at a much lower price. This does not even have a thumb pad or an analog stick, which is basic in the Razer gaming keypad and the Logitech gaming keypad.
Specs
Number of keys: 29
Weight:15 lbs.
Lighting: Multi-color backlight
Type: Membrane
Pros
Customizable LED backlight
Programmable keys
A comfortable & ergonomic design
Compatible with all operating systems
Cons
The keys don't feel soft and responsive
Things To Consider Before Buying The Perfect Gaming Keypad
There are game key-pads in the market that suit everyone's needs. However, it is important for you to determine which key-pad suits your game setup and your playing style. Below we have mentioned a few things you should consider before making your purchase.
The Type of Keys
There are basically two types of keys you will find in key-pads; Mechanical and membrane. Both types have their advantages over the other, so there is no clear winner in this case. It depends on what you feel comfortable with. Mechanical keypads are expensive but they are not necessarily better than membrane keys.
Mechanical keys
These are soft to the touch and highly responsive. There is no need to press them hard; hence, they are more preferred by gamers and regular computer users worldwide for game playing and typing. However, these highly responsive keys are extremely expensive. A key-pad for game playing having mechanical keys will generally cost more than $100.
Membrane keys
These, on the other hand, require a hard press before a keypress can be registered and they are generally very loud. Imagine playing with a typewriter, sounds crazy, right? We thought so too. The biggest advantage membrane keys have over mechanical is their price. Any key-pad with membrane keys will be far cheaper.
A concrete decision can only be made once you decide on your budget. Membrane keys do not leave you worse off in any way and it's good to start off with them until you gather money to buy a mechanical key gamepad.
How to Use the Gaming Keypad
The best gaming keypad is always compatible with popular Operating Systems like Windows and Mac. Using a game key-pad is extremely easy. You need to plug into your computer via a USB or Bluetooth. Since the game key-pads are compatible with your system, you aren't generally required to install any software.
Why You Need A PC Gaming Keypad?
Modern FPS, MMA, and MOBA games require you to switch through controls to perform special moves and sift through special items. FPS games need you to be focused, so an uncomfortable wrist position can destroy your comfort. MMOs and MOBAs, for instance, need a game key-pad to take care of unique combos and hit macros. Without it, your game performance will suffer.
The Verdict
After going through our list, you should be confident that a game key-pad is made just for your game needs. Think no further! Go and grab your favorite one or take a look at our recommendation.
FAQ
Is There A Game Key-pad for Left-Handers?
There are more right-handed gaming keypads, however, some of them can be used by left-handers.
What Should Be Your Budget?
You need to have a budget somewhere between $50 and $120 to get the prime keypad for gaming.