The gaming industry has grown tremendously over the past few decades. Whether in form of a gaming console or using a platform such as mobile or desktop, gaming has taken over masses and continues to do so. It is estimated that an estimated 600 million units of video gaming consoles have been sold by the end of 2019. This reflects the craze of playing games amongst the people. Games play a significant role in reflecting one's personality. The type of game one plays does intimate the likes and dislikes of the player. Along the same lines, all the gamer's community love to put gaming wallpaper either on their mobile or their desktop. Some maniacs even go on to the extent of having a theme based room or an apartment. Well, what's wrong in expressing your interest after all?
4k-HD Game Backgrounds & Wallpapers Online
To keep up with the interest of the consumer market, the makers often release new games and/or update the previous ones. Before the launch, the gaming community is adumbrated with periodical trailers as well as wallpapers that highlight the salient features. This article talks about the most talked about websites from where the audience can download cool gaming backgrounds of their choice.
GameWallpapers (GW)
Our top pick for gaming wallpapers is GameWallpapers.com. This website comes with plenty of choices for our gaming community and caters to almost all categories of games. Since this platform is highly demanded, some of their wallpapers require registration with their website. The registration starts with as low as € 15 and goes up to € 100. The website offers wallpapers in JPG as well as PNG format. GW offers wallpapers not just mobile phones and tablets but also in all available resolutions for Ultra-Wide, Dual as well as Triple screens. Navigate to their website to browse a gallery of more than 5000 exclusive mobile wallpapers now!
1ZOOM.ME
Another website that offers images and backgrounds for games is 1Zoom.me. Their collection contains all sorts and offers more than 17,000 wallpapers wholly dedicated to games. Isn't it amazing? Under each thumbnail, the relevant information such as its resolution, date of upload and file size can be found. Also, pictures can be searched using tags in the search bar. This allows gamers to find a background image of their own choice without any hassle of going through the entire picture gallery. The only downside of this website is its visual appearance. Its choice of color combination doesn't fit. Anyhow, that is a subjective matter and is one's personal choice after all.
WallpapersHome
Our third pick for 'top gaming wallpaper websites' is WallpapersHome.com. It offers wallpapers not just for the video gaming community but caters to demands of all. As one opens up their website, the homepage greets with recently uploaded wallpapers. On the left is the menu where one can click on games and find one of your interest. Browse through more than 2000 wallpapers available in 5K, 4K, 2K, FHD and HD quality for your monitor as well as mobile. An amazing feature of this website is that it also gives users an opportunity to upload wallpaper to add to their gallery. So if you've got some cool wallpapers to submit, or want to change your desktop background, this is the right place for you.
PlayStation
While speaking about games and backgrounds, why not mention the makers of a gaming console? Our third pick in the queue is PlayStation that is owned by Sony Interactive Entertainment. PlayStation offers a cool feature of creating a wallpaper of one's personal choice on their console. Simply, navigate to their website to download a background. Their website offers free access to a variety of wallpapers that can be downloaded directly to the computer without any registration process. Once downloaded, it can be copied into a USB drive which then can be connected to PS and, under the themes tab, the same can be applied. To explore their gallery, click here now!
XBOX
Imitating the same model as PlayStation, XBOX also offers a variety of images that can be applied as background. XBOX is another pioneer in the gaming industry and is owned by Microsoft. Collectively, it has been able to sell more than 100 million of gaming consoles worldwide. The wallpapers available on their website not only belong to a specific game but are custom designed to match the interest of a gamer. A click on the image reveals the options available to users. Currently, XBOX offers the following resolutions
2560×1440
2058×1440
2048×2048
1920×1080
1080×1920
The drawback of their website is that they offer a limited variety and do not cater to all genre. Full variety can be accessed here.
WallpapersWide
WallpapersWide is pretty much like WallpaperHome but deviates with the latter in terms of interface and a few features. On the home screen, one could see the display feature of the device user is using while browsing website. This makes it easy when downloading a background. This web also offers the feature of uploading wallpapers, thus, giving an opportunity to show off your designing/photography skills as well. The menu on the left offers a filter bar and resolution bar where one could select the choice and download accordingly. The downside of this WallpapersWide is that it does not offer a large variety to choose from. Currently, about 600 wallpapers are available only and the major chunk is from three games only. The download option is available to registered users only; however, the registration is free of cost. To download a background in best quality, click here!
WallpaperSite
This site isn't only for gaming wallpaper but also for a variety of categories such as animals, celebrities, automotive, and many more. It is built around the same concept as WallpapersHome. The interface is a clone of the latter; however, it only offers demanding wallpapers and their gallery does not amass wallpapers like most other websites. They have also got an app for Android so users can use that app to download a background directly without any hassle. It also offers wallpapers in 5K, 4K, 2K, FHD, and HD quality and also allows users to upload wallpapers. You can visit the site by clicking here.
GetWallpapers
Getwallpapers.com is another super awesome website that contains backgrounds for most categories including games. The interface of this website is pretty simple and without any complexities. The website offers wallpapers in different resolutions for desktop and mobiles mentioned on the picture itself prior to downloading. They also allow users to upload the best images they may have to showcase their talent. However, the submission requires registration process which is free of cost. GetWallpapers takes the edge over others as it allows the community to discuss and comment under any picture they want. This allows users to express their opinion on whether they like the image, highlight any deficiency and suggest any room for improvement.
WallpapersCraft
One more website that is explored for the same grouping is WallpapersCraft.com. They offer a limited, but stunning, range of backgrounds. The interface is very easy and straightforward. At the right side of the screen, one can see that the website offers gaming wallpapers in resolutions for fullscreen, widescreen, mobile phones as well as tablets. Overall rating by the users, the number of downloads and other information is displayed below the preview image. Also, no registration is required to save any file. All one has to do is simply click the image and select the resolution of their choice.
WallpaperAccess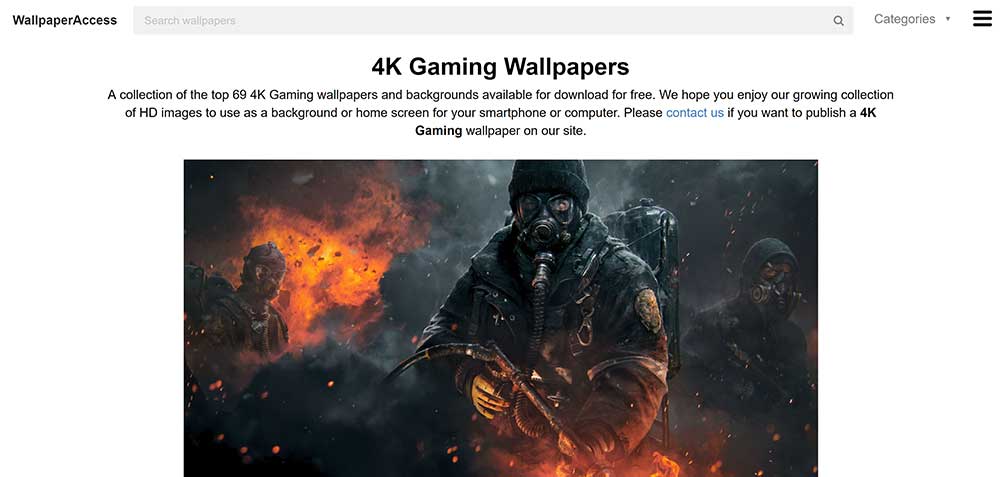 WallpaperAccess.com is a replica of Getwallpapers. The interface is exactly the same as the latter. WallpaperAccess differs only in terms of resolutions and other minor features that are not offered by Getwallpapers. Unlike getwallpapers, wallpaperaccess disallows users to have a discussion in the comment section. Also, this website only offers 4K quality to its users which is why the there is a limited variety available on the web. Moreover, if one wants to submit an image, it needs to be in 4K resolution for it to be accepted. Finally, registration is mandatory for submission which is at no cost.
DMB
DMB is a mnemonic for Dual Monitor Backgrounds. This website claims to be the largest one dedicated to dual monitor backgrounds. Such monitors are mostly installed by sound studios or by the gaming maniacs. Thus, this website is a perfect place for downloading gaming wallpapers. Since their variety is limited to dual screen wallpapers, the mobile users are at a loss as they won't benefit from this website. Details relevant to the image can be found by clicking the image and scrolling down the page. To explore their gallery, click here now!
FREEPIK
Our last option for gaming wallpapers is FreePik. This website contains thousands of vector images and graphics that can be used as wallpapers. This website not only caters to the demands of the gaming community but also offers a resource for graphic designers. Downloading is absolutely free but there are subscription plans available; standard and premium. It also allows users to comment under each picture; however, that requires registration. Users can sign up using their Google, Facebook or Twitter account. To find out more about what they have to offer, click here now!