The Gaming room has been a popular concept ever since the inception of the first home console. Gamers typically prefer having their own private space where they can relax and chill out. The idea got further popularity due to the popularization of gaming Youtubers. People like KSI and Ninja have some of the most insane gaming setups out there, and fans naturally take inspiration.
If you're a decent gamer looking to create your gaming room, there are a lot of things you need to take into consideration. You need to make sure there's a safe space for whatever consoles or PCs you're going to use. Or you could choose to go in a completely different direction and create a retro gaming room. There's a ton of possibilities, and the thought of putting it all together can become overwhelming. Don't worry; however, this article is going to be the perfect guide on everything you need to set up your gaming room properly.
Without any further delay, let's get into all the things you need to consider when setting up your gaming haven.
Size
The first thing gamers need to consider is the size. Determining the size comes before anything because when you know how much room you have, you can start visualizing everything. You need to consider what equipment you're going to use in the place, how large the table or shelf needs to be.
Likewise, you can quickly determine the number of screens you can fit in. Learning the size first can easily allow you to asses what options you have at your disposal. The best thing about a gamer room is that you can customize everything to fit your needs. Whether you're trying to create a massive gaming den or a minimalist economic size gaming den, you're bound to find the right décor.
You can also use shelves to smartly utilize space when you have a limited amount of room to work. It's all about being crafty. Keep following this guide, and pretty soon you'll have your gaming setup ready.
Décor
Your ultimate gaming room needs to look the part, the essential things you need are a desk and a gaming chair. These three things are what comes first. You need to prioritize setting up your console or PC first then work around decorating everything. Once you have the essentials of your room set in, you can look at decorating everything around it all.
In spite of everything moving digital, most gamers still tend to buy game discs purely because of the nostalgia of owning a drive. Furthermore, you can display discs. You can get a large shelf to fit all your games, or if you're a niche collector, you could pick a small cute looking shelf.
Furthermore, gamer furniture is incredibly popular nowadays. If you're following a theme, you can incorporate a lot of furniture that fits your particular niche. You can hang posters of your favorite games. Place action figures of your favorite heroes. There's a multitude of options out there that you can select.
Sound
A very important aspect of your gaming room is going to be your sound system. If you want a proper gaming den, then you need to invest in decent speakers and soundproofing for the ultimate effect.
You may argue that you prefer playing with headphones most of the time. However, you could severely limit the versatility of your gaming den if you don't invest in decent speakers. There's a lot of speaker options out there that are available for a nominal budget but offer fantastic sound.
Furthermore, soundproofing a room isn't as expensive as it once was. You can invest in soundproof padding that is cheap and available in several different colors as well. With this necessary soundproofing, you can play games as loud as you want.
Moreover, if you want to chill out and relax to watch a movie with a sound system present, your life can become much more manageable.
Depending on the size of your room and the kind of sound you want, the speakers will be either expensive or inexpensive. For smaller rooms, even a Bluetooth speaker like the Amazon Alexa will work well for you.
Television Screen/Projector
Depending on the size of your room and your budget, you can decide between buying television and a projector. Maybe you don't want to play games on a monitor; you can choose to take your game to a larger screen.
Considering the size of your wall, you can choose to get a giant TV or a smaller one. Make sure you accurately take account of the space available to you. Don't end up buying a TV that's larger than your wall. Additionally, you can also take into account the different types of TVs in the market. With Curved TVs and UHD technology making headway, make sure you do your research before concluding a buy.
If you have a lot of space, you can also get an HD Projector. The setup is available in several different sizes and is nearly the same price as some of the UHD TVs available on the market. The feel of playing a game with great graphics on a projector is entirely unreal. You start to feel like you're watching a movie.
Regardless of whether you choose to get a TV or a projector, both of them are going to elevate your gaming setup to the next level. Moreover, TVs and Projectors are going to upgrade your movie game as well.
Television Mount
With modernization, the TV mounts that are available to you are considerably more modern. You can get a mount that allows you to adjust the tilt to fulfill your viewing needs. Additionally, if you have a lot of space, you can get a proper TV Wall. The wall can act as a shelf to hold your consoles as well.
Not only do these walls help make your gaming room stand out, but they also let you easily organize wires. Moreover, you'll get a free place to store your CDs and Décor.
Lighting
Great lighting can quickly help transform your gaming room. The LED revolution has given birth to the existence of cheap lights available in different colors. You can buy the led strips and attach them around the table to create an insane atmosphere. You can make use of roof lights and false ceilings to get everything set up correctly.
Furthermore, you can make use of some of the smart LEDs that are available in the market. You can use these to customize the lighting in your room according to what game you're playing. You can control the level of illumination you prefer, whether you want a brightly lit room or a dim one. Moreover, you can also set in cool features like letting them respond to a particular gesture like a clap.
Your lighting is incredibly important because it essentially helps control the whole mood of your gaming room. The use of vibrant lights almost radiates energy in a way. If you use dim lighting, you can create an almost horror aesthetic.
Lighting is a great way to decorate any space. You can increase the value of any room you're in just by getting the perfect ambiance. Work your way up slowly and pretty soon you'll have the ideal lighting setup in your room.
List of 16 Best Gaming Room Ideas/Types
Retro Gaming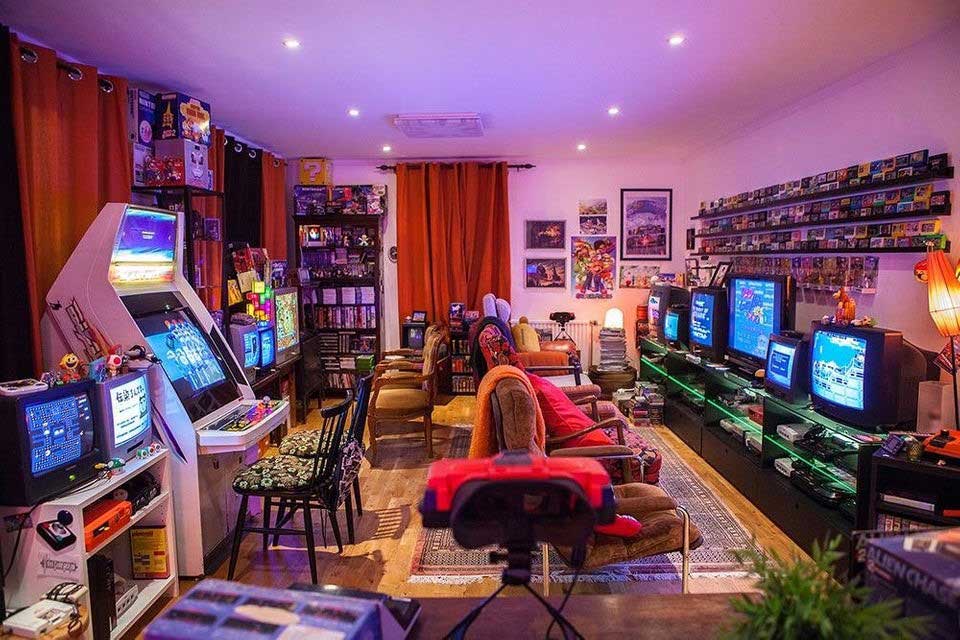 If you have a ton of choice, then this is another aspect you can explore to decorate your gaming room. Installing retro gaming consoles like an arcade machine or just an old console can add an extra edge to your gaming room.
Not to mention that its one of the easiest ways to get a blast from the past. You can easily pick out a classic game and enjoy an adventure brimming with nostalgia.
Finding Retro Gaming consoles that work can be a tough job, but your persistence will come good eventually.
With a multitude of options available to you, it's true that the only limit is your imagination. If you've got no time for ideas, don't worry, though. Here are several gaming room ideas that will help you set up your room.
Dual Game Room Setup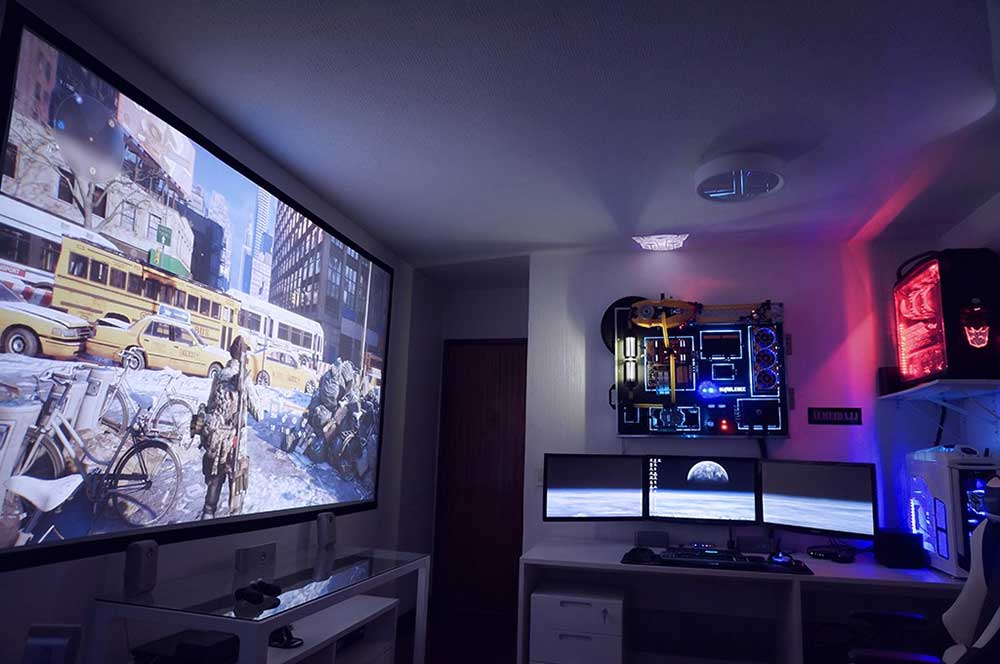 The gaming room setup above utilizes a relatively small space really well. You can look at how there are essentially two different setups. There's a PC on a compact minimalist desk. Furthermore, there's a whole host of lighting options with a ton of light coming from the PC case itself.
The most impressive aspect of the room, however, is the TV. It looks perfect for console gaming.  You can take your pick necessarily by just revolving around in your chair. The Setup showcases how you can efficiently utilize even the most minimal of spaces.
Ultimate Gaming/Music Room Setup
Depending on your budget and space, you can make your game room look like an absolute modern gem. The false ceiling and the lighting combine to create an ethereal atmosphere. The place looks like something straight out of the future.
Additionally, the furniture is incredibly sleek and ties in with the modernity of the room. Instead of just staying alone and gaming in your room, you can get a bunch of friends in to chill out with you. Lay back on an epic couch and enjoy your time marveling at your creation.
However, to create such a modern room, you need to have a proper feel for room designing. Don't be afraid to get up on the internet and look for different ideas to supplement your vision.
MultiConsole Game Room
A gaming room that contains all consoles is a dream come true for any gamer. You can create little sections for each of your different gaming consoles. When there are so many consoles, you can make use of unique shelves.
These shelves can not only help you mount your television; it can also be a place where you can display your multiple consoles. Moreover, their positioning also allows you to connect the consoles without wasting any time tactically. You can make use of unique furniture for the areas you designate to your respective consoles. For example, you are using the blue theme for the Ps4, Green for the Xbox, and Red for all your Nintendo consoles.
Creating separate corners for your gaming consoles can not only help create a relaxed aesthetic it can help you organize as well. Keep your respective console accessories on the angles you create. The last thing you need to make sure of is that you get a super comfortable lounger. As a gamer, most of your time is in your game room, the most important thing to do is make sure you're satisfied.
Cozy Gaming Room
Let us stay on the theme of getting as comfortable as possible. If you want a genuinely comforting experience, you're going to need, make sure your gaming room is coat as possible. It's particularly easy to do this if you have a place that is of a smaller size. Using a small size, you can create an incredibly personal space.
You should quickly gather together items that make you feel comfortable. You can clutter them up together to create an incredibly comfortable environment for yourself. In this environment, you can easily be yourself and do your thing at your own pace. Comfortable gaming rooms are all about making sure you are as comfortable as possible in your environment. The absolute crucial thing to do is make use of the most comfortable gaming chair you can buy.
Having a comfortable gaming chair will ensure that you can spend long hours in your chair without tiring. It essentially means that you could even fall asleep while sitting in your gaming chair.
Minimal Gaming Room
If you're looking to avoid all the clutter in your environment, a minimal gaming room might be the perfect choice for you. Using straightforward modern décor can quickly help you make a space that screams Zen. The colors white and black typically work best with each other.  You can use a combination of these in your room to create the most relaxing vibe possible. Furthermore, another way to decorate these minimal gaming rooms is by making use of different plants to decorate the room.
Plants are an excellent way to give your gaming room a different spin. You're rarely going to find apartments that use plants as legitimate decorations. However, bucking the trend can prove useful and give your gaming room a unique edge.
Minimalistic Game Room
Staying on track with the entire minimal gaming room design, this is another setup from which you can take inspiration. The desk has a lot of space underneath that means you can easily keep your PC case underneath the desk. There's also ample enough room for you to get your lighting and wiring in order quickly. The cupboard on the side of the office serves as the perfect storage container. You can put the entirety of your gaming contents in these cupboards.
Furthermore, the incredibly versatile amount of space on the desk will ensure that your gaming den can also double up into a workstation. You can choose to accentuate the office with crazier color lights. However, if you want to retain a neutral aspect, just make sure you use lights that have duller tones.
Novelty Gaming Room Setup
Gamers love novelty furniture. This game room, in particular, looks brilliant because of the PSP covers on the side of the TV screen. If you're a fan of Sony's excellent line of the console, then incorporating some theme base furniture may be a perfect idea.
You can use the TV screen as your starting point then work your way around the other décor. Another exciting feature you can take from this room is the lighting on the shelves. Using LED strip lights, you'll notice the illuminations go straight through the shelves. By going straight through the shelves, these create an incredible atmosphere.
Moreover, the shelf also lets you organize all your games and consoles efficiently and effectively. Trays can help you clear out a lot of the potential clutter you could face due to all the accessories you own.
Multiple Screen Gaming Room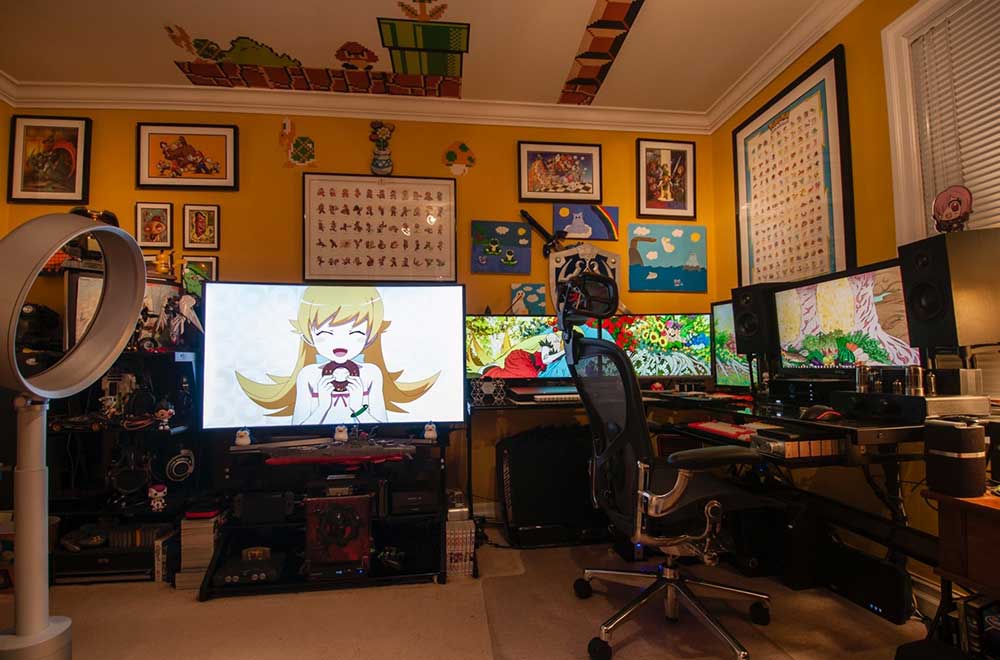 You know the old saying that goes the more gaming screens, the better. That applies to game rooms. Fitting your gaming room with multiple filters can not only help improve your versatility, but it also looks incredibly cool as well. Investing in various screens might be a costly process, but it can lead to massive dividends as well.
If you own multiple screens, you can easily invite your friends over for a massive gaming session. You can either play with each other or play your games on different monitors. The fact of the matter is with multiple screens you'll receive an insane amount of freedom.
Console Only Gaming Room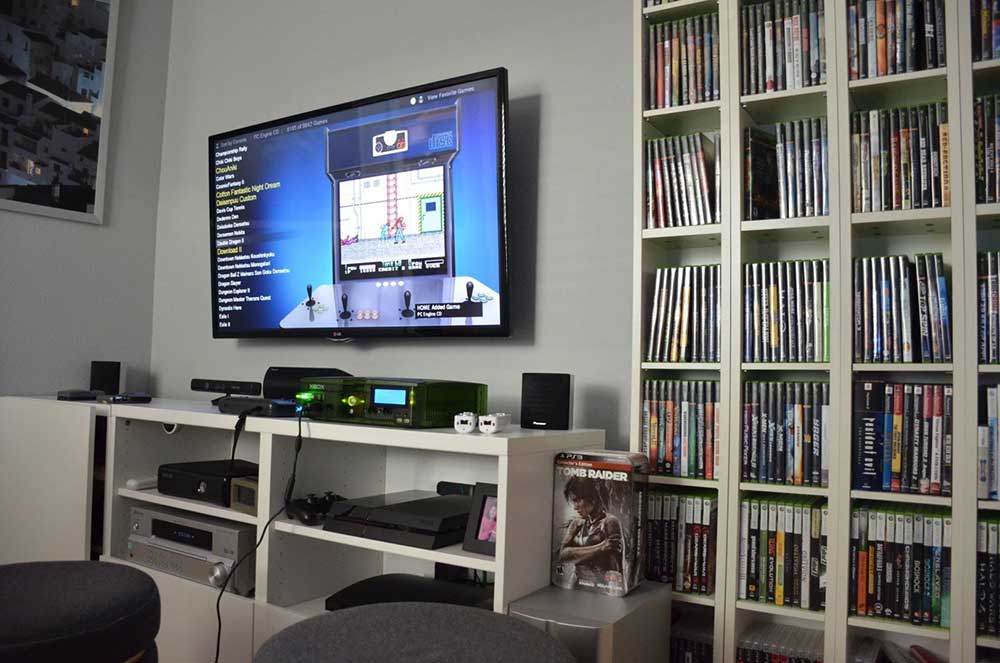 Not everyone on the planet is an avid PC gamer. You might be one of those people who prefer gaming on consoles. If you're as such, then there's no need for you to worry about setting up a PC unit. You can work on setting your gaming room up for a console. Not only does doing so save you money, but it can also save you from a lot of the wiring hassle. A console doesn't need any complex wiring needs.
Furthermore, setting up your console is very easy. A simple way to do this is by investing in a shelf that can hold multiple consoles. You need to make sure that these shelves have space in the back so your console can breathe easily.
Additionally, the only thing left to complete a console gaming room is a proper couch. You need the perfect lounger which you and your friends can sink into and chill. Investing in a double seater or a triple seater could be more beneficial than buying individual chairs.
Futuristic Gaming Room
Remember when the article said that one of the most important things to consider when setting up your gaming room is the lighting. That's because light can play a significant role in the entire feel you get from the place.
You can use incredibly simple lighting, yet get great results. Everything depends on your craftiness. If you can find the right lights for your room, there's no doubt that you can transform the entire look of your gaming room. The image mostly makes use of LED lighting, which is available reasonably cheap in the market. You can create your custom lighting setups using just a bit of creativity.
Home Theater Gaming System
The use of absolutely massive speakers makes this game room look very comfortable. Again you notice that the room setup follows the same basic module as most gaming rooms do. The main thing is the couch, the television, and the sound system.
The sound system, in particular, is impressive, hooking up a proper home theater console to play games is incredibly rewarding. The quality of sound can play a crucial role in creating an immersive gaming experience. If the condition is off, then you're less likely to be as invested in the game.
Retro Gaming Room
One of the craziest things to do with excessive space is including a past arcade game. The old arcade games have an aesthetic of their own and are also a lot of fun to play. You can also get serious bragging rights among your friends by owning a retro gaming machine. Like the room above, your entire theme can be retro as well.
The most challenging aspect of creating a retro gaming room is how to trick it is actually to find old consoles in good condition. Furthermore, you're going to have to buy old television sets as well that support the hardware of the console. There are dozens of things that can go wrong with creating a retro game room, but few gaming rooms are as rewarding.
Projector Gaming Room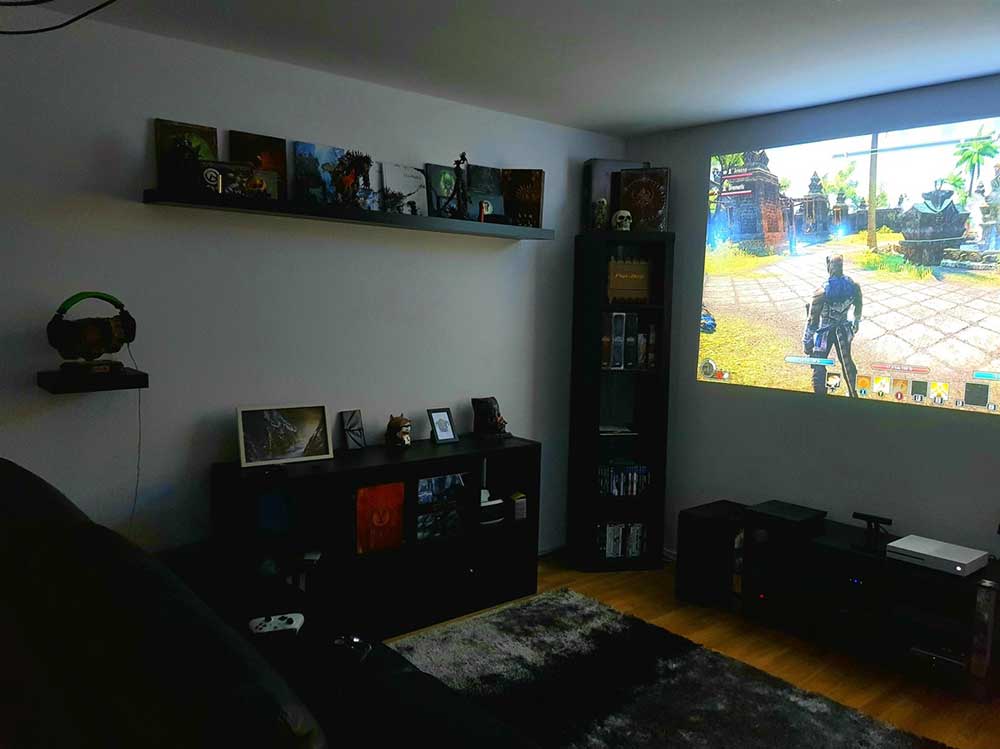 You no longer have to depend on a gaming monitor or large size TV to help finish up your gaming room. You can also invest in the several HD projects available in the market right now. Some of the projectors require a canvas some do not, however, playing your console on a projector screen can be a lot of fun.
You'll save space on the wall due to the projector taking up minimal amounts of space. Furthermore, combine the projector with excellent sound, and it'll start to feel like you're gaming in your cinema.
Retro PC Collection
Retro PCs are some of the coolest devices men has ever built. Collecting these retro pieces and lining them up can elevate the entire look of your gaming room. Moreover, they can also serve as a great blast to the past when modern PCs start to bore you.
Creating a collection like the one above containing several standard PC units is challenging. You might be spending a lot of time looking for bargains on old monitors, keyboards, and other accessories. If you're into the classic games of the past, the investing in a retro game room may be the right thing.
Ultimate Gaming Room
Finally, the last gaming room in our list completely takes lighting to a whole other level — the combination of purple and blue creating an incredibly brilliant atmosphere. The gaming chair itself is modern, and the screen is both UltraWides.
Furthermore, the gaming room, in particular, makes use of custom lighting solutions that look brilliant — creating a beautiful ambiance for you to sit and play video games. The combination of purple and blue works incredibly well together. It helps create a particularly unique aesthetic.